It's always a pretty raw, fascinating experience to witness places were people have been or are locked up in prison. I guess I'm getting into the promotion of "dark tourism" here, but there really are some amazing prison tours that can be taken in Central and South America - and a lot of travellers really do rave about the experience of visiting such places.  Here's my pick of the best prison islands to visit, and prison tours available in Latin America.
1. Coiba Island, Panama
I've probably been to over 100 destinations in Latin America - Coiba Island would be in my "top 3″ places that I have visited.  If ever I were to be sent to prison, I'd be able to cope if it were here.

Hello tropical paradise of Coiba Island!
Coiba Island is on the Pacific side of Panama - not far from the surfing hotspot of Santa Catalina.  In part, this prison island is amazing because of it's beauty - totally undeveloped (with the exception of prison facilities, and now one little hotel) with exquisite palm fringed, white sand beaches and turquoise waters.  The island is still a functioning prison island, though the last few prisoners are expected to leave within the next few years.  The few prisoners that are still there just wander around their tropical paradise, trying to make a buck selling necklaces made from shells to the few tourists that visit.  Looking around the old, overgrown prison facilities is a really eerie and fascinating experience.  Coiba Island has a real untouched, unspoilt, raw feel to it. In 15 minutes of snorkelling at Isla Coiba and I saw various 6-8 foot sharks, plus turtles, stingrays, and balls of fish 10,000 strong.  For me, snorkelling anywhere else is now totally pointless as afterwards I always think "that was fun, but compared to Coiba Island, a total waste of time". Isla Coiba really is a special place to visit - read my recent trip report on Santa Catalina & Coiba for more info and advice.

Coiba prison's disintegrating cells hint at a darker past.
2. San Pedro Prison, La Paz, Bolivia

San Pedro prison, La Paz, Bolivia - looks charming doesn't it? Much more charming that a lot of the rest of La Paz, however…
Apparently, the US TV series "Prison Break" was based on La Paz's notorious prison San Pedro. This tour is only for the truely adventurous.  While there used to be organized tours of San Pedro, now the only way is to go along to the prison and announce that you are "visiting" an inmate. No worries  - a fair few travellers do this, and the guards are used to it. Having said that, there are no guards actually in the prison - the inmates are just allowed to get on with their criminal lives (behind bars).  They process cocaine in some parts of the prison apparently. Some of the top dogs live in genuine five star palaces / quarters. Pretty scary stuff, so don't take any valuables or cameras with you. Speak to a local travel agency, or hotel owner about how to go about organizing a "visit" (ie. who you should be asking for) - if you simply turn up outside the prison, you'll almost certainly be scammed.
3. Devils Island, French Guiana

Devils Island, French Guiana
This island served as a prison for French criminals from the French revolution until just after WW2.  Learning about the disturbing history of inmates is a pretty gruesome experience.  However, the islands (it's more of an archipelago) are very beautiful, and there's fine Caribbean beaches nearby. This is a paradise with a history close to hell though - more info can be found with these following articles from the Daily Mail and the Independent. Accommodation is now provided in the old wardens quarters at the fancy sounding Auberge l'Ile Royale (about $50).
4. Gorgona Island, Colombia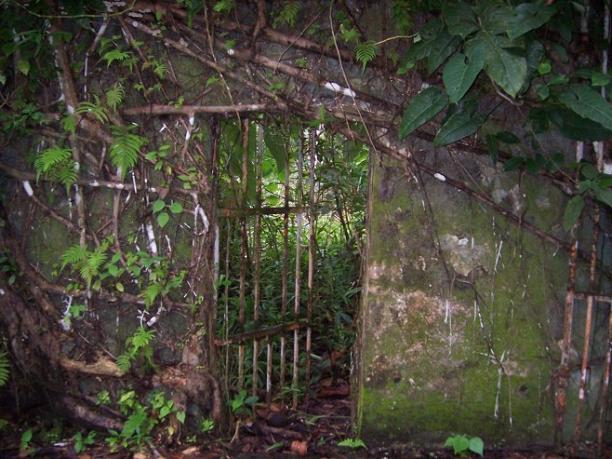 Gorgona Island prison cell.
Way out into the Pacific ocean, Gorgona was, until the mid 1980's, one of Colombia's most notorious high security prisons. Nowadays, no prisoners are to be seen here - just the odd monkey scampering around the old derelict, overgrown prison.  There's a few decent beaches here too.  It's best to visit during the months of July to September when Gorgona Island is the perfect place for spotting whales - especially killer whales. There's basic accommodation on the island, and packages are arranged by Aviatur - for more info see paisatours.com's guide to Gorgona.
I'm sure there's a few more prison islands or prison tours available in South America that I'm not aware of - do drop a comment in if you've any to add!