Avianca, who are Colombia's principal airline, offer two different airpasses - one for domestic flights throughout Colombia, and one for flights to various destinations in Central and South America as well as the Caribbean.  This article offers a complete guide to these two Avianca airpasses - how they work, and how to book them. 
Both of Avianca's airpasses (the Avianca Colombia Airpass and the Avianca South America & Caribbean Airpass) are based on coupons (think of "coupons" as flight tickets).  To be entitled to an airpass, you must be a tourist/person who resides outside of Colombia. The price of both airpasses is significantly cheaper if you have flown to Colombia on Avianca rather than a competing carrier - Avianca offers flights to Colombia from a variety of destinations in both Europe and North America (NB. because such flights often involve an affiliated carrier - British Airways from Madrid to UK for example - they DON'T show up when you search online for flights - you'll need to call a well versed flights specialist to get these more complicated Avianca international fares from Europe and North America). 
The Avianca Colombia Airpass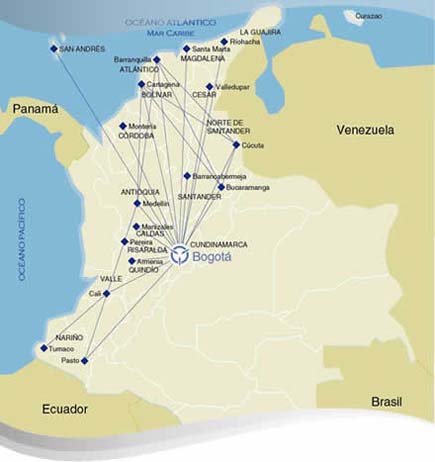 Avianca domestic flights route map
 Each coupon (think of a coupon as a "ticket") costs US $100.  To use the airpass, you must purchase at least three coupons (there's no maximum limit).  So this basically means that any three Avianca domestic flights costs US $300 (plus the taxes of course - none of these prices include taxes).  Four coupons costs $400, five coupons costs $500, etc etc.
There are a few additional price rules. 
If you have flown to Colombia on Avianca (ie. your international ticket is with Avianca), each coupon costs just $50 (so in this case, 3 coupons/tickets would cost just $150+tax). 
Furthermore, if any flight is either to or from the cities of San Andres, Cartagena, Santa Marta or Armenia, the coupon increases in price by $20. So a flight coupon from Bogota to San Andres would cost $120 (or $70 if your international ticket is with Avianca - what a bargain!).
All these prices noted above are based on a low booking class (class B) - this class won't always be available (eg. in the high season, or if you try to book last minute and aren't flexible with your itinerary, you might find that this class isn't available on your desired flights).  So when the lowest class (class B) isn't available, it's also possible to book the airpass in a higher class (class S) - in such cases, each coupon would cost $120 (rather than $100 in the lower class), or if you've flown internationally with Avianca the coupon would cost $70 (as opposed to $50) and if the coupon is to/from the prior mentioned "premium" cities (San Andres, Cartagena, Santa Marta or Armenia), the additional fee is $30 per coupon (as opposed to $20 extra in the lower class).  If this paragraph confused you, don't worry - these intricacies are more for your travel agent to figure out!
Here's an example itinerary, with prices assuming you've flown to Colombia with Avianca, and the lowest class is available:
Lets say you want to fly from Bogota to Cartagena to San Andres and back to Bogota (3 coupons). Bogota to Cartagena costs $70 ($50+$20 - the extra $20 is because Cartagena is one of those premium priced destinations). Cartagena to San Andres likewise costs $70. And so does San Andres to Bogota. So the total costs for these three flights would be just $210+ taxes.   If you booked standard tickets rather than the airpass, the prices would probably be about 3 times as much  -whichever airline you tried to use.  
Other rules worth mentioning: the tickets have to be purchased abroad - you can't purchase the Avianca airpass in Colombia itself. Each coupon is valid for any Avianca flight, including flights that involve connections, as long as the connecting time is 24 hours or less.  So if you fly from Armenia to San Andres with a connection in Bogota, this would count as just one coupon. Another rule - all the flights must be taken within 30 days (30 day maximum stay).
Baggage allowance is the same as that of your international flight arriving in Colombia, whoever it is you have flown with.  Many airlines allow you two 20kg bags on long haul flights to Colombia - in this case you'd be allowed to take these two bags with you on the domestic flights with Avianca (normally you'd only be allowed one bag on domestic flights in Colombia). 
Note that with the Avianca airpass, it's possible (if you wish) to select the date and time of just the first flight coupon, and leave the other flight dates open - in this case, you'll have to select the date and time of your other flights at least 72 hours in advance, and you'll have to hope that there is availability when you try to confirm your preferred dates.  So you can pre-select your flight routes, but leave the dates open and confirm them with Avianca nearer the time. I'd only recommend this option for travel during the low (off peak) season.  It's probably more sensible to select a fixed itinerary - after all, making a date change only costs $30 per flight coupon.  If you want a refund for whatever the reason, you'll receive all your money back less $75 (but your issuing travel agency would have to add an admin fee to this).  
To read Avianca's official information (for travel agents) about this airpass, click here.
The Avianca South America and the Caribbean Airpass
This airpass is for flights to destinations outside of Colombia.  Avianca has an extensive network of flights in Central and South America and the Caribbean.
The minimum number of coupons is two (so you have to take at least two international flights with Avianca to be entitled to claim this airpass).  The exception is for simple return flights - for example, you're not allowed to fly Bogota-Caracas-Bogota and claim the airpass - you'd have to add an extra third flight in this case.  (You could fly Bogota-Caracas-Medellin though).  Note that you have to start your flights itinerary in Colombia.  Here come the prices, assuming that you have arrived in Latin America with an airline that is not Avianca. If you have arrived with Avianca, each coupon costs $50 less (so subtract $50 from these prices below).  The prices are based on the lowest class (class W) being available - if this class is not available, the airpass can be booked in a higher class (class L, which is more frequently available) for an extra $50 per coupon. Here's those prices for flights both to and from anywhere served by Avianca in Colombia:
Quito or Guayaquil (both in Ecuador) - $125.
Lima (Peru), Caracas (Venezuela), Panama City, San Jose (Costa Rica), Santo Domingo (Dominican Republic), Aruba (Caribbean Island) or Curacao (Caribbean island) - $195.
Santiago (Chile), Buenos Aires (Argentina), Sao Paulo (Brazil) or Rio de Janeiro (Brazil) - $395.
Flights can be to/from anywhere in Colombia - so for a coupon from Medellin to Quito, with a connection (of less than 24 hours) in Bogota, the cost is $125 (plus tax of course).  You can also add one (or more) domestic coupons to this airpass (prices as per the Avianca domestic airpass I believe).  The maximum stay for this South America and the Caribbean airpass is 60 days (so all flights must be taken within 60 days).  This airpass is only for sale outside of the region (ie Latin America) to those residing outside of Colombia - so technically, if you lived in Peru, you wouldn't be able to purchase this airpass in Peru, but you could if you booked with an agency in UK or USA.
All the other rules are exactly the same as for the Avianca domestic flights airpass, with the exception that in the South America & Caribbean airpass' case, date changes cost $40.
Here's an example itinerary:
Medellin to Quito = $125.
Guayaquil to Bogota = $125.
Bogota to Panama City = $195.
Total cost =  $445+tax.  
Note that you can have "gaps" or space for overland travel for both these airpasses if you desire. 
To read Avianca's official information (for travel agents) about this airpass, click here.  
How to Book Avianca Airpasses
These Avianca airpasses can't be booked in Colombia itself (this is against the "rules" of the airpass).  Try contacting your local Avianca office - follow this link to Avianca's website and select "offices rest of the world" tab on the left). Alternatively, in Europe get in touch with the UK affiliate office - see avianca.co.uk, which is operated by the company Flight Directors.  As other alternatives, you could try Latin America flights specialists such as Journey Latin America in UK (previous employers of mine). Whatever you do, don't ask your local travel agent - they won't have a clue about this airpass, and they'll just get another agency to do it for them and then bump up the price.
For more information about airpasses, see the earlier article I wrote about airpasses in South America, which has details of every airpass (I believe) that is relevant to travelling in Central and South America.